Swoon 2013!
Guess what?! I am participating in the Swoon 2013 Quilt-a-long hosted by Fairy Face Designs. Whoop! This will be my headquarters to post all 9 blocks. Click the button below to find out more.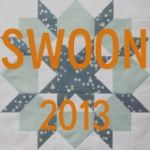 Isn't this pattern stunning?! I've been swooning (hehe) after this quilt pattern for awhile and now I have the motivation to make one!
I picked my Madhuri fat quarter set by The Quilted fish for Riley Blake.
It's so fun, bright and has elephants! Now, this is a big quilt and the blocks are large and take about 1 1/2 -2 hours to cut and piece. Each. I'm sure once I get the hang of this block it will only take me about an hour. You have to really focus when cutting since there is almost no room for error. My goal is to do one or two blocks a week and then finish the quilt early fall.
If you are interested in following along or participating, be sure to click on the button at the top. Here is the
flickr
group if you want to see all the pics. This will be my Swoon 2013 headquarters and will post all my new blocks here and updates here!
Happy Swooning!
Melissa