Zakka 2.0 - Vintage Pencil Pouch and MORE!
Happy Wednesday! It's that time to share my weekly Zakka 2.0 and this week's project was a vintage pencil pouch.
While the little pencils are just so stinking adorable, I didn't think they were while I was paper piecing these little buggers. It's virtually impossible to be perfect and since I used linen for the wood, it made the seams bulky and hard to piece together. But, I carried on and was delighted once it was together. I somehow lost my brain and stitched the heart on upside down....and didn't realize it until it was too late. Adds to the homemade charm, I guess! Ha! I still love it anyway!
The reason I'm a bit late with sharing this week because I wanted to make a friend for the pencil pouch...
I've had on my to do list to try out making of
Jedi Craft Girl's
Quilted Covered Journal Cover
and decided to use the pencil pattern from the You've Got Mail project. This was really easy to put together and love the way it turned out. It's so perfect because once you fill up the journal, you can just whip it out and put a new one in. I got my composition books on sale for back to school. You can get them ruled or graphed. Amanda doesn't give the dimensions of the composition book she used but her instructions fit mine perfectly and it was 9 3/4 x 7 1/2 in.
I also what to let you know about my impromptu link party going on
here
. Read all about my first quilts and my shame! Then you can join in the fun and link up your quilt! Oh, and there will be a prize!
Oh, and the lovely girls at Quilt Story featured me today so be sure to hop over and read about my
reversible chevron baby quilt
! I might or might not be doing a little something for Christmas in the near future, too! Woot Woot!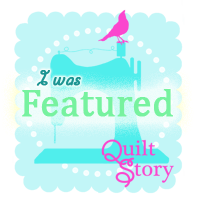 Hope you have a great Wednesday and thanks so much for all the blog love...I sure am enjoying it!
Melissa
Linking up to all my favorite parties on the sidebar and of course
A Quilter's Table
, who is hosting the Zakka 2.0 SAL!