EPP hexagon pillow...a finish, finally
I finally finished my epp hexagon pillow! I first showed you some of the 2 inch hexies pieced together
here
. Well, that was two months ago! I probably wouldn't have finished it except that my dad has been in the hospital for two weeks and I've had a little free time (while the relishes are at pre-school) sitting up there keeping him company. He is feeling better, but will likely have heart surgery later this week. With that said, I have had very little time/energy to sew.
Really not much to say about this pillow other than I used charms from Simply Color by V and Co. for Moda. Two inch hexagons are the perfect size for 5 inch charms, FYI. I used my Silhouette to make the paper templates. I keep telling Mr. Relish it will pay for itself! lol
I also started a new EPP project today while sitting at the hospital. I am excited about this one! It has hexagons, squares, and triangles, oh my! I didn't take a picture today, but maybe I will tomorrow and blog real quick from my ipad.
I did finish Mr. Relish's anniversary quilt but I'm saving that post for next month for
Sew We Quilt's blog hop, For the Boys
! Wooohooo...my first blog hop! Stay tuned for that, but just so you know, he LOVED it!
I am also liking up over at Hydee Ann's (<--love her name!) new monthly EPP linky party at
Splish Splash Stash
! You must go check it out this Saturday! Hi, Hydee Ann!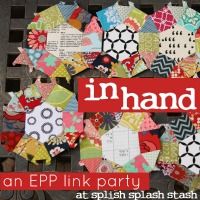 Lastly, while I was taking pictures of my hexagon pillow
early
this morning (see the dew?), I also snapped a picture of little relish sporting her first pony ever! Isn't she adorable?
That's all I got for you this week. Thanks for visiting!
Melissa
Linking up with all my linky friends to the right,
Crazy Mom Quilts
and over at Quilt Matters for TGIFF!