Glamp Stitchalot....WHAT!!!!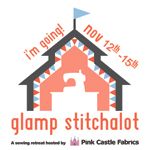 Have you seen this yet? Pink Castle is hosting a new kind of camp called
Glamp Stitchalot
and will be in November 2015! They have chosen a lovely hotel for the venue with awesome room rates! They even have payment plans and I just signed up for the 12 month plan! I know it seems super long way away, but it will be here before you know it! The teachers they have lined up are phenomenal -- Tula Pink, Violet Craft, Katy Jones, Sarah Fielke, Alison Glass, and Jeni Baker! Let me know if you are going, too, and I would love to meet you there!
Have a great Labor Day Weekend!